Beeprog Universal Eprom Programming System
Although many cars can be programmed with the ByteShooter or the BDM 100, some still require directly reprogramming the eprom in the ECU. We tried many programming tools and found the ELNEC BeeProg to be the best and most reliable device.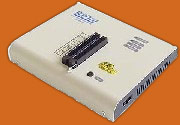 BeeProg is the first des USB-compatible universal programmer by ELNEC, supporting Windows® 95/98/Me/NT/2000/XP. Programming is extremely fast because of using the new hardware on FPGA-b. 48 universal pin-drivers set peaks pull-up/pull-down-modes, clock, vcc, ground and programming powerThis way, all devices in DIL-shape up to 48 pins can be programmed without additional adapters.
The BeeProg can be connected with pc AT-386-486-Pentium®-PS/2-Portable and notebooks by the USB-port (2.0) or parallel-port (IEEE1284). The BeeProg also can do In-Circuit-Programming (the ISP-cabel is included). When connecting a device, the BeeProg checks if it is connected correctly and if all pins have good contact. Internal security mechanisms prevent destruction of the device under any conditions. BeeProg includes: programmer, diagnostic-POD, power supply, pc connection cable, ISP-cable, dust protection cap for ZIF socket, software on cd and manuals.
The number of supported devices of the ELNEC®-Programmer is updated nearly all 2 weeks. Software updates can be downloaded for free.
for actual price contact us